In April, I'm going to do my first swap! Swaps have appeared on many sites, like
Craftster
and flickr groups, but the one I'm doing is hosted by AnneMarie at
Gen X Quilters
.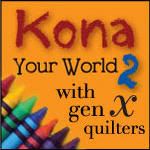 For this swap, I'll send in 12 fat quarters of Robert Kaufman's Kona Cotton Solids, and receive back 12 different colors. I'm sure some people will use it for "stash building," but I've been actually looking forward to swapping since I lurked on the
Craftster swap forums
a couple years ago. (Check out the photo galleries!) I like the idea of picking out fabric and sending it away to AnneMarie, who will divvy up the goods and send them back to the participants. I'm already excited about it! Check out all the great colors Kona comes in here:
Sew Fresh Fabrics
.